At some point (hopefully sooner than later), teams will be able to resume large-scale, in-person retreats and meetups. We've learned a thing or two about coordinating a remote team retreat and want to share with other people considering an event for their team.
No matter the size, budget, or location, these tips should help you plan your event.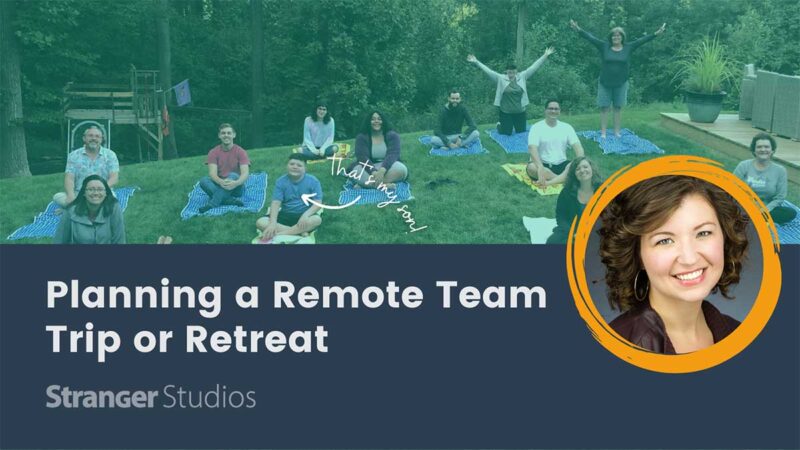 Stranger Studios had an almost full team meetup in September 2019 and had hoped to repeat that event in 2021. Safety, personal comfort, and travel restrictions may have kept us from planning the second annual team retreat, but we were able to do a smaller meetup with two new people that joined our team in 2021.
In no particular order, here are some thoughts to get you going as you design, plan, schedule, run, and reflect on in-person events for remote teams.
12 Tips For Planning a Remote Team Retreat
Plan well in advance.
While the thought of having a remote team retreat was always in the back of our minds, we seriously started planning for our first retreat about one year in advance. We began saving for the event and loosely considering destinations. Map the travel routes for your entire team. If possible you want to avoid picking a location where half of your team needs to spend 20 hours flying and the other half only needs to drive 2 hours.

About half our team lives in South Africa so there were travel requirements to get in order so that as many of our team members could attend as possible.

Start researching what it takes for your team members to get to the country where the retreat will be held.
Gauge the difficulty of acquiring proper travel documents for each possible destination.
Inform team members well in advance of the location you are hoping to host the event at so that they, too, can support researching travel requirements, travel insurance, and keep their family informed of how the travel impacts them.

Cover all costs.
As a business, you are responsible for covering the total cost of travel. This includes lots of expected things like flights, accommodations, and catering. It also includes visa applications, travel or medical insurance, per diems, and transportation to the airport for departure and arrival. Let every team member know you are covering the full cost of the trip as early as possible. This gives each team member the best chance to participate and reduces travel or financial anxiety.
Include time for work and, more importantly, for play.
A remote team retreat shouldn't be a conference. Include time for team-building outings. Share personal origin stories and bridge cultural gaps (food is a great way to share culture). If you're planning a team outing, consider an escape room, arcade, fun class, or a guided tour. Escape rooms are especially awesome for smaller groups (less than 10 people). Reflect on what you know about your team—their interests, physical activity level, and personal "comfort-zones"—for the best-fit type of outing. HelpScout has a helpful list of retreat activity ideas if you need inspiration.
Plan for day-to-day responsibilities.
Your business' normal daily tasks and duties need to continue. What will you do about high priority work during the retreat? ​​If your entire team is attending the retreat, address how you will handle these tasks. Have all team members get their projects in shape before the event. Have them plan as if they were on a true vacation and not able to check in. You don't want to disappoint customers, lose business, or stall any ongoing projects while the direct team is busy.
Set expectations, especially if you do not have any.
Ask each team member or respective team leader what they would like to achieve during the time together. You can opt for a loose schedule or a more detailed event full of presentations. Some of the best events I have attended have a singular focus: building relationships. But above all else, be ready to let the schedule evolve.
Reflect on success and share future goals.
Encourage your business founders to share a presentation on all the awesome work the team has accomplished in recent months. Then, share a roadmap of future goals to get the team involved in shaping and tackling new challenges. Collaborative goal-setting helps everyone hang on to the energy of the team retreat once they to remote work.
Super large team? Consider smaller group meetups, too.
It may not be possible to run a full team retreat every year or two, especially for large teams of 50 people or more. Your teams Encourage cross-team projects and breakout sessions
Don't forget to include chill time in the program.
Everyone has a different energy level and personality. Some people are introverted and become heavily exhausted after a few hours of in-person interaction. As we are all working remote, you as the leader may not realize how each person uses their time throughout the day. Be aware of each person's need to rest and recharge.
Use anonymous forms to gather preferences and feedback.
We used a Google Form to request anonymous information from the team before and after the event. These responses helped us meet every team member's needs in our planning and schedule design. Check out Zapier's list of post-retreat feedback questions as a starting point. Feedback gathered after the event helps us do better in the future—it identifies specific areas we could improve and highlights what we did well. You can also consider one-on-one interviews with voluntary team members or specific leadership to gather deeper feedback.
People love good food, but food preferences vary.
Food could be the most important logistic of a remote team retreat to organize well. People are generally flexible with unexpected changes in the program and content of the retreat. But with limited availability to their own transportation, kitchens, and food choices, bad food planning can be a total morale killer. Plus, you aren't only planning meals. You need to plan snacks and drinks, too. And while we're on the topic of drinks—do you plan to supply alcoholic drinks? Rely on your survey data and "expectation communication" from the team leadership as you consider meals, snacks, and drinks for your team.
Spouses? Kids? What to do.
This is a tough one—and I do not have an easy answer for whether you should or should not extend an invitation to outside guests. In some cases, opening the retreat up to partners and children is an amazing gesture. You'll be giving their family a chance to see new parts of the world, whether before or after the retreat, as well as get to know your team on a deeper level.
Be a moderator.
In-person conversations, especially during chill time and "after hours" can be more casual than you and fellow leaders are used to. Remember that this is still a work function. Consider sharing a code of conduct in advance of the event. You can create your own code or borrow from the WordCamp Code of Conduct. When conversations steer into territory that raises eyebrows, be the moderator. Step in and guide the conversation back to safe territory, especially if you feel that some team members recognize an awkward situation but are not speaking up. Push through the awkwardness of coming across as a "parent"—it's your one job to ensure everyone feels comfortable.
There are an almost crippling number of details to consider before, during, and after your retreat. If you cannot plan the event on your own, there are businesses that offer complete team retreat packages—they handle all the plans and some even offer on-site retreat facilitation. We opted to plan our own events so far, and I think that was the right choice for the size team we have. But who knows what I will do next time around.
Ready to go for it? Start by clarifying your goal.
If I have to pick one starting place from this list, it's goal-setting. Your goal is a common thread in every decision you make, especially as you justify costs (because it will not be cheap).
No two retreats have the exact same exact blueprint. Have fun and let the retreat be an extension of who you are as a remote team.